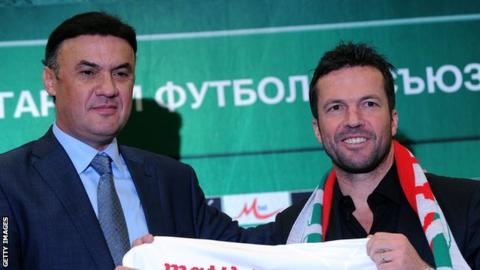 The president of the Bulgaria Football Union, Borislav Mihaylov, has resigned.
Bulgaria Prime Minister Boyko Borissov called for him to stop on Tuesday after the racist abuse of England gamers in the Euro 2020 qualifier in Sofia.
Monday's match, which England won 6-0, was stopped two times due to the fact that of racist behaviour by home fans, that included Nazi salutes and monkey chants.
The BFU stated the relocation "is a repercussion of the current tensions" but did not point out bigotry in their declaration.
The declaration said the tensions had actually developed "an environment that is damaging to Bulgarian football and the Bulgarian Football Union".
It added that "Mihaylov reveals his company readiness to continue helping in the development of Bulgarian football in every possible method".
Previously on Tuesday, the Bulgaria prime minister "highly condemned" the fans' behaviour and called for Mihaylov to resign "instantly".
" After yesterday's disgraceful loss of the Bulgarian National Group and given the bad outcomes of our football, I bought to end any relationship with BFU, consisting of monetary, till the withdrawal of Borislav Mihaylov from the post," he added.
Before the match, Mihaylov had complained to Uefa about " unjust branding" after the accumulation was eclipsed by fears England's gamers could be subjected to abuse.
The Vasil Levski Arena was currently subject to a partial closure for the match after Bulgaria were approved for racist behaviour throughout Euro 2020 qualifiers against Kosovo and the Czech Republic.
Mihaylov, a former Reading goalkeeper, dipped into three World Cups for Bulgaria and has actually been member of Uefa's executive committee given that 2011.
Uefa president Aleksander Ceferin said the " football family and governments" need to "wage war on the racists", after the abuse of England players.
Uefa told BBC Sport any action in response to Monday's events would have to follow on from a disciplinary committee, which in turn has to await a referee's report.
Anti-discriminatory body Fare has called for Bulgaria to be expelled from the Euro 2020 certifying campaign.
What occurred during the game?
After making a pass in the first half, England defender Tyrone Mings glanced over his shoulder and could be heard calling towards the touchline: "Did you hear that?"

Shortly later on, in the 28 th minute, the game was stopped.

Striker Harry Kane was in discussion with referee Ivan Bebek on the midway line while a stadium announcement was made to condemn racist abuse and warn fans that the video game could be abandoned if it continued. At the same time, England manager Southgate was speaking with a number of his gamers.

The game resumed however was stopped once again right before half-time. Southgate and a number of England gamers were in conversation with match authorities before the video game was restarted for a second time.

A group of Bulgaria advocates wearing black hooded tops – some using bandanas covering their faces – started to leave the stadium after the game was halted for a 2nd time. BBC Radio 5 Live reported that some made racist gestures while heading towards the exits.

After 6 minutes of time included at the end of the first half because of the hold-up, Bulgaria captain Ivelin Popov was seen in a heated debate with an area of home supporters near the tunnel while the remainder of the players headed for the dressing spaces for half-time.

In line with Uefa protocol, England had the option to walk off the pitch but they continued to play the complete 90 minutes.

Recommended articles: